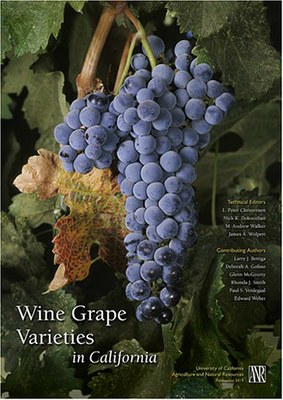 Excited about the grapevine you received at the 108th Annual UC Davis Picnic Day? Growing a grapevine can be rather challenging, especially when you want it to perform well and actually carry some delicious fruit as soon as possible. To help you get started and get your vine to where you want it to be, please visit this link to the University of California Division of Agriculture and National Resource website detailing the process of growing grape vines in your backyard.
We would like to thank Casa Cristal Nursery Inc (Modesto, CA) for donating vines and making this Grape Vine Giveaway possible!
Click on the variety names below to download a full color fact sheet about your particular vine variety!
Do you like the beautiful fact sheets and want to know more about grapevine varieties in California? They can all be found in the gorgeous book Wine Grape Varieties in California which was published by the University of California Division of Agriculture and Natural Resources.
All grape vines have been grafted onto different rootstocks. Please click this link for specific care instructions for your grape vine's rootstock!