Congratulations to Katie Wayman on being chosen 2015 DEVO International Fellow
Katie just completed her undergraduate degree in V&E this past June.  Four and a half years prior as she was applying for colleges around the west coast, mostly for poetry, she applied to UC Davis under the most interesting sounding major they had- Viticulture and Enology.  It seemed to combine just the right amount of science and just the right amount of nonsense.
After spending her first harvest in the UCD Pilot Winery under the tutelage of winemaker, Chik Brenneman, Katie is working her first commercial harvest this fall 2015 with Carlisle Winery and Vineyards in the Russian River Valley, inspecting vines planted in the 1800s!  And, with the DEVO International Fellowship she will be spending her first Southern Hemisphere harvest in South Africa with Zelma Long's Vilafonte in Stellenbosch.
Michael Penn - 2014 DEVO International Fellow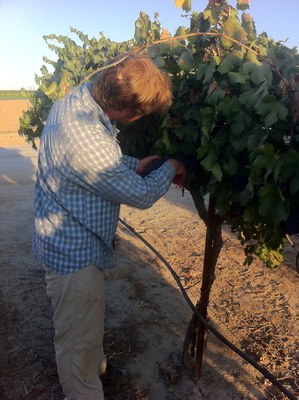 Michael received his first viticultural experience while working at a small family-run winery in Australia in 2004, in the Broke-Fordwich valley of NSW.  Pruning the vines in the early spring sparked an intellectual curiosity that has stayed with him throughout his travels and workings in the vineyard, crushpad, cellar, and laboratory. Michael received an A.S. degree in Viticulture & Enology from the Walla Walla Comm. College in 2010, and is just finishing up his M.S. in Viticulture & Enology at UC Davis, working under the advisorship of Dr. Andy Walker. His past harvest experiences have included working at B.I. Vineyards and Winery, Bainbridge Island, WA (2006), Tsillan Cellars, Chelan, WA (2007), College Cellars, Walla Walla, WA (2008), Ampelos Cellars, Lompoc, CA (2009-10), Les Vins de Vienne, Condrieu, France (2011), and the UC Davis Teaching Winery and DEVO Homewinemaking (2012-13).  Other jobs and internships have included summer viticultural work in Central Otago, NZ  and Walla Walla, WA, as well as a QC lab technician for Jackson Family Wines in 2012.  The experience that taught him more than any other job  about cellar work however was two years working for Hale's Ales in Seattle, WA (2005-2006).
Being involved with the VITIS student tasting group as co-president, as well as being active in the DEVO student organization as an enthusiastic participant have been some of the most memorable experiences for Michael during his career in the wine industry.  Michael sets his sights on France again for the fall of 2014, and has lined up an internship in Alsace, France, working for the esteemed producer Domaine Zind-Humbrecht. He looks forward to learning more of the techniques pertaining to white wine production in a cool-climate while working under the tutelage of MW Olivier Humbrecht.